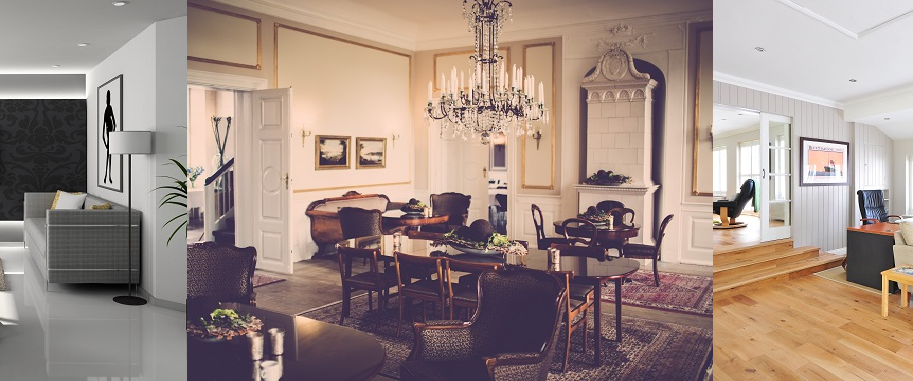 Are you looking for interior design ideas for your brand new crib? Zing.my offers you a one-stop solution to your needs with a stunning gallery of interior designs and a multitude of designers to choose from. Designing our living space is a vital part in our homes as they offer both aesthetics and functionality to it. Whether you are looking for an interior design for your modern terrace house in Malaysia or a makeover of your childhood home, Zing.my is the one-stop for you to get all your interior design ideas and needs. Here are some of the most popular types of interior designs in Malaysia.
Modern
A broadly used term, the modern approach is a very popular style adopted by many. Heavy emphasis on simplicity and sleek designs maximizes available space. The modernist desires to express individuality with functionality without cluttering. Furniture items used are usually sleek and low-profile with heavy usage of edgy straight lines. Colour palettes used are usually minimal and subdued to create a clean look. Usage of modern minimalist art can add another level of sophistication to the décor.
Especially suitable as studio unit or condo interior design ideas that are getting more common in Malaysia, the modern design will be able to maximize space and gives a sense of openness.
Zen
With inspirations and roots that are unmistakably Asian, the Zen approach is all about balance in your homes. Everything from the flooring to ceiling décor lights are designed so that everything is in harmony with one another. Especially suitable as interior design for larger premises in Malaysia like a semi detached or modern bungalow house, Zen works best with ample open air space to promote a positive flow of energy.
Therapeutic and refreshing, a house with this design exudes tranquillity and soothes the mind. This style incorporates one with nature and is highlighted by addition of natural organic materials such as bamboo branches, paper parchment laps or even a pot of hand-trimmed bonsai. Natural illumination lets one to be at peace and allows escapism for the urbanites.
Traditional
While chic designer urban lofts are the buzz nowadays, there is still a certain charm about owning a cosy traditional-styled home. To differentiate being traditional and being old-fashioned, modern interior designers borrow elements from the past and adding modern elements to it. With inspirations sourced from our rich local culture, traditional designs bridge modernity with the past.
Traditional designs typically vary with some custom accents of certain cultural influences. Regardless, usage of intricate wooden carvings and lavish fabric upholstery are almost always present in any traditional design. Colours of nature such as green and brown are often used as a subtle yet elegant backdrop. From a luxurious modern bungalow house design in urban Malaysia to a modest country cottage, traditional designs are incredibly flexible as they work well with any space you own.
Industrial
Inspired by the Industrial Revolution in the 1700s, this design emphasizes a rustic and functional living space. Exposed bricks and galvanized pipes are common elements that resemble a repurposed industrial unit. Sparsely placed wooden furniture are the go-to as well to give an abundance of free breathing space. Dangling filament lights gives the space some subdued warm vibrancy while accentuating natural wooden elements.
This unique style screams rawness with some of its unfinished looks. Adding some colourized décor like wall paintings or a simple sculpture adds flair and personality to the overall space.
Bohemian
For the wild-natured and free-spirited, Bohemian or Boho is a style that gives a level of individuality like no other. Contemporary as it is unique, Bohemian homes showcase the carefree nature of the owner. Being a niche design, it has started gaining popularity for its unique rustic charms.
Rustic wooden shelves often house souvenirs or collectibles for your inner wanderlust and give your space a truly personal touch. Often you can see vintage ornaments such as dream catchers or hand-made pottery as additional décor for the Bohemian home. Comfort is an important aspect and is shown by inclusion of soft rugs and plush cushions. For the Boho advocates, there is nothing more comfy that laying down on a thick furry rug after a long day at work.
Hollywood Glamour
Also known as Hollywood Regency, is technically a design that screams over the top designs. In line with glitz and glam, decorations and furniture oozes premium luxury and lavish lifestyles. These designs are for those trying to make a statement and are unafraid to stand out from the crowd.
Drawing inspiration from the Golden Age of Hollywood, you can find refined textile finishing incorporated such as suede, satin and even silk. As contrast, Victorian elements such as plush velvet materials are used to offer a more subdued undertone. Only the bold survives Hollywood and therefore the colour palette is equally daring with strong palettes providing accents to the décor.