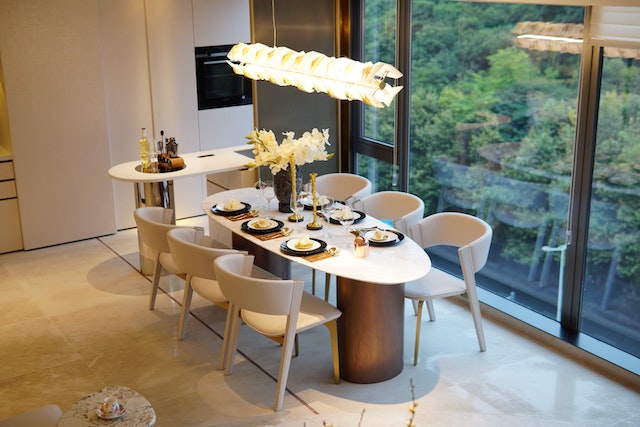 Two key areas often stand out when creating a comfortable and stylish living space: the dining room and the home office. These spaces play pivotal roles in our daily lives, from hosting family dinners to boosting productivity while working from home. It would be best to have the right furniture to transform these areas into functional and aesthetically pleasing parts of your home. Finding the perfect dining room and home office furniture can be an exciting journey in Malaysia, where quality and style are in high demand.
Dining Room Furniture: Setting the Stage for Memorable Meals
The dining room is more than just a place to eat; it's where cherished memories are made. Whether you're hosting a festive gathering or enjoying a peaceful dinner with your loved ones, the ambience and functionality of your dining room can enhance the experience. Here's how to make the most of it:
The centrepiece of any dining room is, of course, the dining table. In Malaysia, where diverse culinary traditions thrive, the dining table plays a central role in bringing families together. Consider size, shape, and material when choosing a dining table. Rectangular tables are classic and versatile, while round tables encourage conversation. Opt for sturdy wood like teak or oak for a timeless and durable piece that can withstand the test of time.
2. Dining Chairs: Comfort Meets Style
To complement your dining table, invest in comfortable dining chairs. Upholstered chairs offer comfort and style, while wooden chairs have a rustic charm. Mix and match styles to create a unique, inviting atmosphere that reflects your personality.
3. Storage Solutions: Keeping Things Tidy
Every dining room needs storage for tableware, linens, and other essentials. Sideboards, buffets, or cabinets provide practical storage and elegant pieces of furniture that can elevate the overall look of your dining area.
4. Lighting: Setting the Mood
The proper lighting can transform your dining room into a cosy and inviting space. Consider pendant lights or a chandelier that complements your dining table and adds a touch of sophistication.
Home Office Furniture Malaysia: Productivity Meets Comfort
Recently, the home office has become an essential part of our lives. Whether working remotely or managing household tasks, a well-designed home office can boost your efficiency and overall well-being. Here's how to create a productive workspace:
1. Ergonomic Office Chair: Comfort for Long Hours
Investing in an ergonomic office chair will provide proper lumbar support and allow you to work for extended periods without discomfort. Look for chairs with adjustable features to customise them to your body's needs.
2. Functional Desk: A Workspace That Works for You
Pick a desk that suits your working style and available space. L-shaped desks offer ample workspace and can fit into corners while standing desks promote better posture and health.
3. Storage Solutions: Organized and Clutter-Free
Keep your home office organised with shelves, filing cabinets, and storage units. A clutter-free workspace promotes concentration and creativity.
4. Natural Light and Decor: Aesthetic Appeal
Let natural light into your home office to create a pleasant working environment. Add some personal touches like masterpieces or plants to make the space uniquely yours.
Conclusion
Finding the perfect dining room furniture and home office furniture in Malaysia is exciting. Whether gathering around a dining table with loved ones or maximising productivity in your home office, the right furniture choices can make a difference. Invest in quality pieces that reflect your personality and meet your needs; you'll enjoy these spaces for years. Remember, a well-furnished home is a happy home.