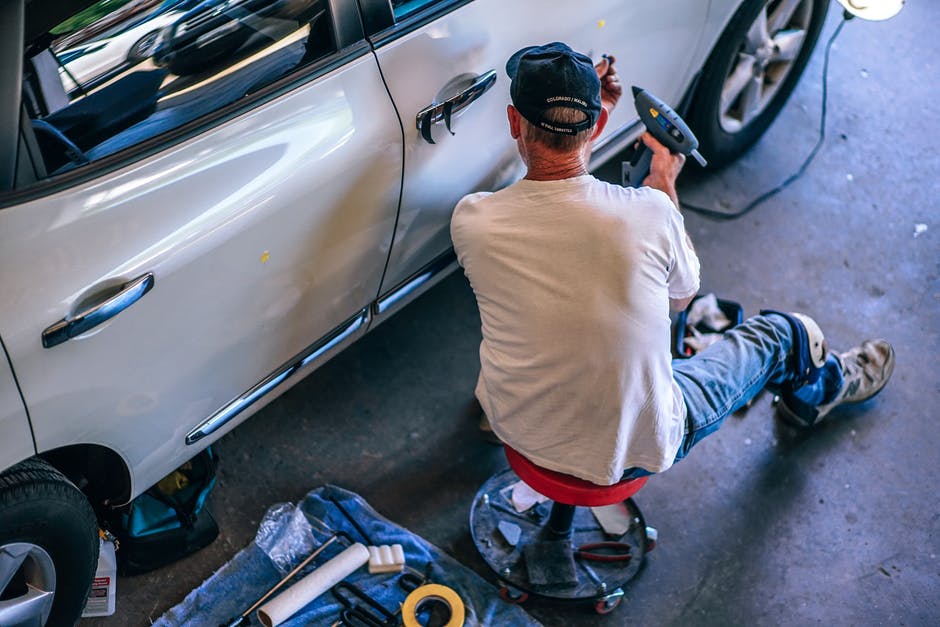 An airless spray system is one that does not require compressed air to push the paint out of the device. Instead, an airless paint sprayer uses a high-pressure pump to force the paint through a hose, in which the paint will be squirted out through a small nozzle that produces a fan-like pattern of paint on the surface of the object. The pressure can be increased to as high as 3,000 psi. In an airless spray system, you will be spraying the paint only, unlike an air spray system where there is a mixture of air and paint when they are released. However, when the paint comes in contact with air after it exits the nozzle, it becomes tiny droplets that will adhere to the object surface.
Airless spray systems come in electric and petrol models, and are easy to carry around. They can be used anywhere, particularly large surfaces that need a smooth coating. It can be used for painting the interior or exterior of the house, and also in production work.
When in use, an airless spray system can transfer a range of 70 to 80% of the paint to any surface, whereas the air sprayer has only 30 to 40% of transfer efficiency.
An airless sprayer is typically light and easy to handle. Despite that, you will still need to use an appropriate way to spray paint for the most effective results.
Before you start
It is important to take note that when you use an airless spray system, the items around the sprayed object will likely get paint splatters on them as 20 to 40% of paint are lost in the air throughout the spraying process. Therefore, you might have to cover or wrap the surrounding objects before beginning.
It is ideal to let water run through different hoses of the spraying system, just to make sure they're free from other substances by placing the ends in a small bucket of water. Turn the machine on "prime" mode and drain them one by one properly. Once you're done, place the hoses in a big bucket of paint, allow the water in the hoses to drain, and once the paint starts flowing, you can aim the hose back into the paint bucket to avoid wastage. Once there are no air bubbles in the flowing paint, it means you're ready to start! Remember to switch the machine to "spray" mode before you begin.
Impianti offers a variety of airless paint spray equipment; the spray gun extensions come in different lengths, even extending to as long as 12 feet. Attach an extension that's suitable for your painting work, then you may begin by trying it out on a big piece of cardboard. Usually, at the first try, you'll produce uneven paint spray due to insufficient pressure, which can be seen when striping occurs at the edges. Adjust the pressure so that it becomes higher, and you should be able to get a smooth and even finish in no time.
Tips on spraying
If you're going to spray paint a wall, do it row by row. Begin from either side of the square towards the other end. Before you start spraying:
● Make sure your hands are already moving because if you pull the trigger at a static position for too long, it will cause the layer at the area to be thicker than other parts.
● Keep the hands in motion even after you release the trigger.
● Aim the nozzle at a perpendicular angle on the surface that you would want to paint.
● Keep a distance of about 12 inches from the nozzle to the wall. As you move across, maintain the distance and the angle of the gun.
●Adjust your arm and hand so that even as you reach the edge, you are not fanning the spray gun as the odd angle would cause an uneven surface.
For wall corners or intersections between two surfaces, just point the gun at the corner so that both sides are evenly sprayed on. Also, remember to move the nozzle at a consistent speed for an even layer of paint. As you move from row to row, allow a 50% overlap of the previous layer for a smooth finish.
Remember to check the paint level once in a while during the spraying process as insufficient paint can lead to non-uniformed layers.
Benefits of airless spray system
Compared to an air sprayer, the airless spray has a reduced overspray. The 70 to 80% of transfer efficiency allows less wastage, therefore you consume less materials too. An airless spray system offers speed and efficiency which can help you to complete the task in a shorter amount of time. In fact, it quickens the process by more than 50%, and it's 4 times faster than painting with a brush and a roller.
Unlike a paint roller that may leave brush strokes on the wall, an airless sprayer will ensure a uniform layer of paint that does not thin out easily. This is because an airless paint sprayer releases high-viscosity paint that can last long. It is very suitable for covering up areas with irregular surfaces. In the end, it's going to save you a decent amount of money, time and energy.
If you're looking for airless paint sprayers in Malaysia, Impianti offers a variety of airless paint sprayers and airless paint spray equipment for your painting needs. Our products range from basic to complex spray systems for heavy-duty spray painting. Equipment for architectural coating, protective coating and finishing are some of the products that Impianti offers to our clients. Additionally, we also provide:
● Spray painting services
● Cementitious applications
● Polyurethane injection and others
Equipment from WIWA and Graco are our top-selling airless spray paint products due to their top-notch quality, durability and high performance. Offering our clients the best products in the market in order to meet their needs has always been Impianti's mission. Feel free to contact us for any enquiries!